
COLOURLESS FLUORESCENT liquid leak detection and tracing kit - PACK PRO UV MAX BLUE
UV MAX BLUE UV Tracer kit soluble in water and only visible in blue UV light









The PACK PRO UV MAX BLUE is perfectly adapted to the professions of plumbing and sewerage, real estate diagnostician, specialist of the leak detection, swimming pool specialists, forensic experts, as well as any professional working in the field of building and industrial diagnostics.


---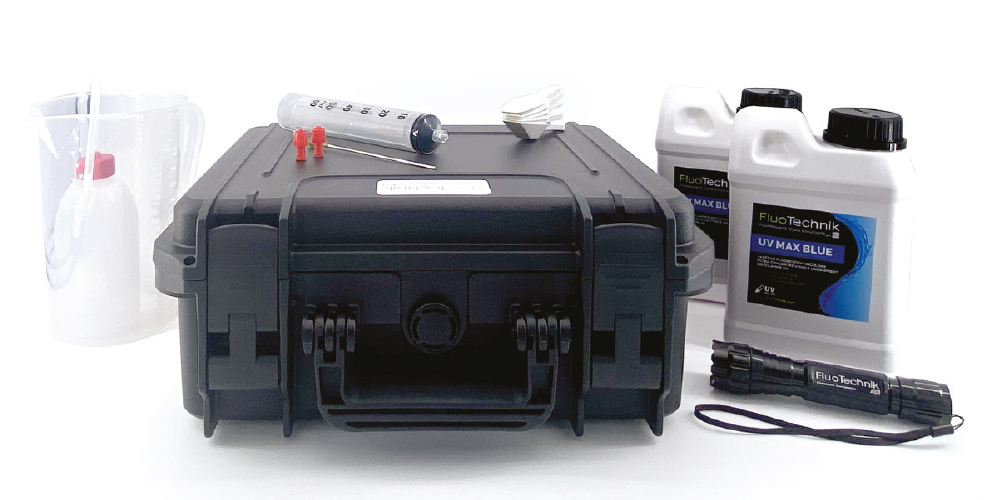 APPLICATIONS
The colorless UV MAX BLUE Water soluble and only visible with UV light, blue color, specially designed for :
● Test of waste, rain and industrial water flow.
● Simulation of agricultural spreading
● Search for a hydraulic connection between natural environment and building
● Search for water infiltrations on the floor, interior wall
● Visual location and connection test of buried pipelines
● Simulation of chemical dispersion
● Leak detection on underfloor heating, glycol cooling network
● Leak detection on storage tank
● Leakage control in industrial environment


---

THE STRONG POINTS
● High fluorescence contrast, easily detectable for several hours
● Very good solubility, easy dispersion
● Does not stain surfaces, easy rinsing
● Simple rinsing with water after use
● IP67-approved case: waterproof and airtight, ultra-resistant with pre-cut foam for optimal storage
● Non-polluting, non-toxic, harmless to the environment (respect the conditions of use and prescribed dosage)


---

The UV WHITE PACK contains:
● 2x1L UV MAX BLUE
● 1 ultra resistant waterproof case IP67 certified (336 x 300 x H148 mm)
● 1 high precision UV lamp (charger + battery)
● 2 UV protection glasses
● 1 measuring cup of 1 liter
● 5 dosing scoops
● 1 syringe 50ml
● 1 needle 10cm
● 1 pipette bottle 100 ml


Are you a distributor / reseller of industrial and building supplies, an equipment distributor and/or an industrial maintenance specialist? Contact us to find out about our advantageous commercial conditions for distributors.


---
---
No customer reviews for the moment.