---
JUNE 2023
IN THE WORLD OF CONSTRUCTION AND BUILDING MAINTENANCE, LEAK DETECTION IS A CRUCIAL TASK.

FLUORESCENT TRACERS EMERGE AS VALUABLE NON-DESTRUCTIVE DIAGNOSTIC TOOLS, OFFERING AN EFFECTIVE AND PRECISE SOLUTION TO LOCATE LEAKS AND IDENTIFY THEIR ORIGINS.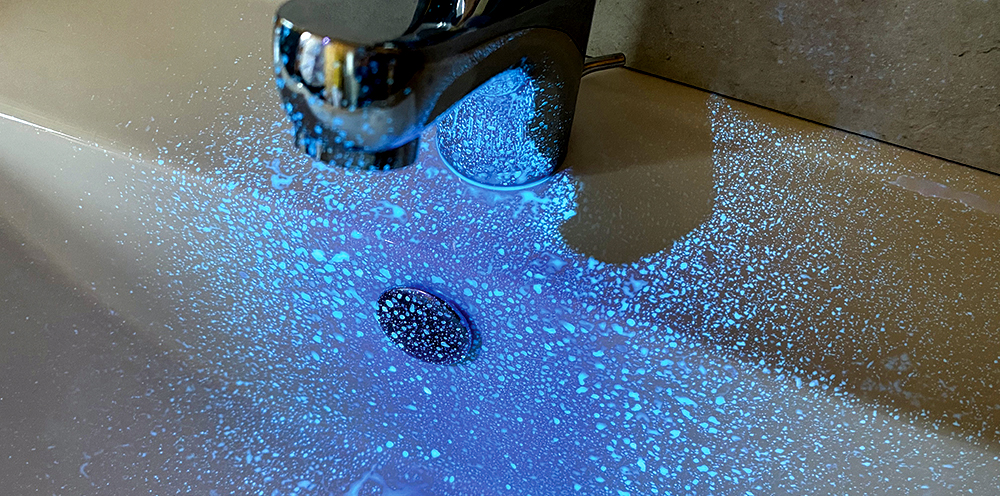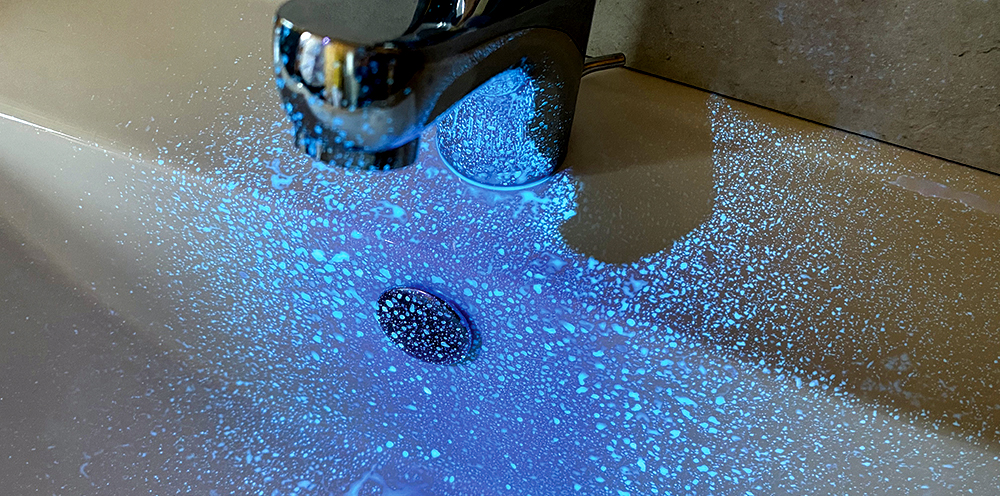 WHAT ARE FLUORESCENT UV TRACERS ?

Fluorescent tracers are substances that emit visible light when exposed to ultraviolet light. They are often used in combination with a UV lamp to detect leaks in various building systems. When implemented in plumbing, roofing, or waterproofing, they are mixed with water and follow the preferred path of water until its point of resurgence (leak discovery). When illuminated with UV light, they shine, indicating the exact location of the leak. This method is considered non-destructive as it requires no demolition or dismantling of systems to locate leaks.

Conversely, the use of UV tracer also allows confirming the source of a leak by injecting or introducing tracer at points in the building that are likely to be susceptible to waterproofing failure. The use of multiple tracers simultaneously (multi-tracing) offers the possibility of diagnosing several potential points of origin without the risk of confusion. This technique is highly appreciated for the time-saving it provides.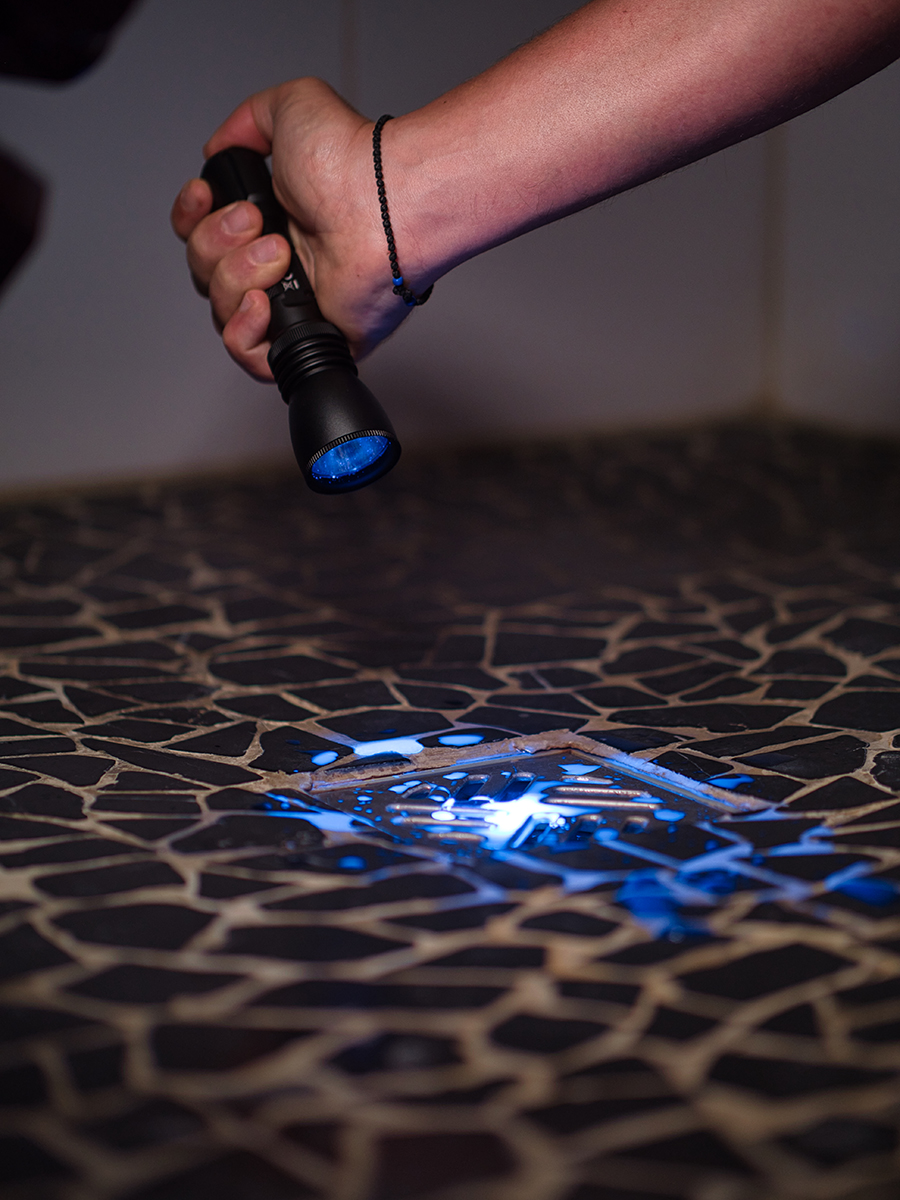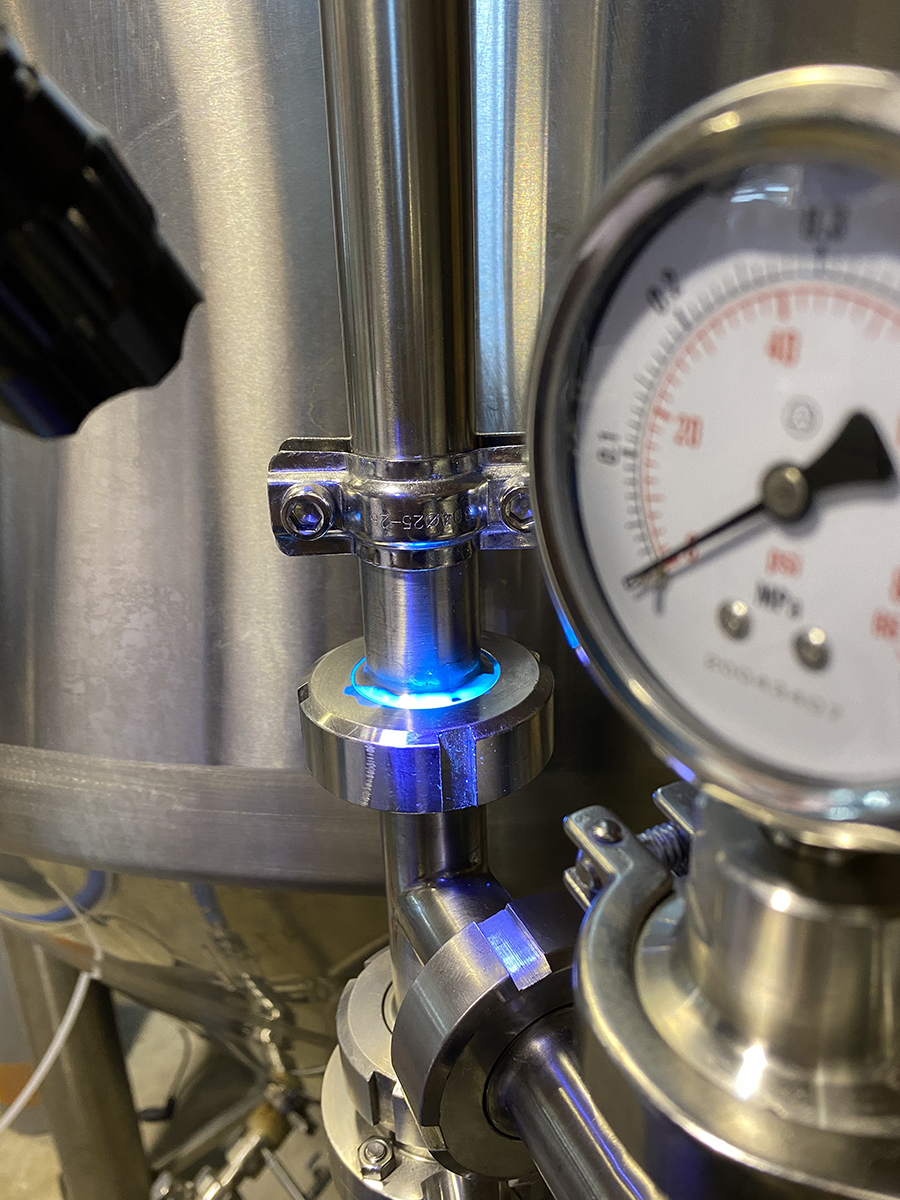 ADVANTAGES OF FLUORESCENT TRACERS IN LEAK DETECTION

The use of fluorescent tracers offers several advantages. Firstly, they provide rapid and precise leak detection, saving time and resources. Secondly, they can detect even the smallest leaks that might be missed by other methods. Thirdly, they are non-invasive, meaning they do not cause any damage to systems or structures during the detection process. For example, in the case of a roof waterproofing test, adding a fluorescent tracer to the water used to test waterproofing can quickly and accurately reveal the location of any leak.


UV FLUORESCENT TRACERS: THE POWER OF EVIDENCE

Fluorescent tracers are also valued in the insurance industry. They serve as tangible evidence tools when assessing claims related to water or air damage. For instance, if a water leak in a building leads to damages, the presence of fluorescence can serve as evidence that the leak existed and was the cause of the damages. This can be crucial for resolving insurance disputes and ensuring that claimants receive fair compensation. In summary, fluorescent tracers are a valuable tool for non-destructive building diagnostics. They offer an affordable, effective, and accurate method to detect leaks, thereby contributing to the sustainability and safety of construction structures.